Your Visit Planned by Travel Specialists in Sicily!
Be shown around, not just driven around
Before planning your visit, let's take just a minute to get to know each other. You probably found us on the internet (our favorite jungle), which is full of competing services. Apart from price, what's the difference?
SICILY CONCIERGE

• Real company with office and staff.

• Experienced personnel.

• Licensed, college-educated tour guides who know their field (some are published historians).

• Fully insured for non-performance of service (an important detail), liability, personal injury.

• Fully licensed, insured tour operator.

TYPICAL ONLINE VENDOR

• Virtual company that outsources most services.

• Taxi drivers working as tourism "experts."

• Illegal, non-licensed "tour guides."

• Limited insurance coverage (certain policies are available only to licensed tour operators).

• Not licensed as tour operator.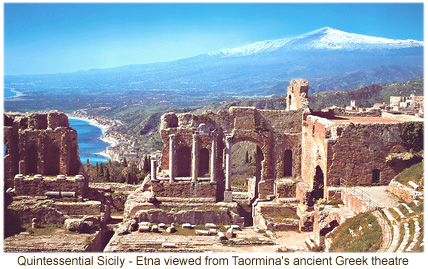 Sicily Concierge is a travel agency — the "traditional" kind with a fully-staffed office, knowledgeable (and multilingual) travel agents, attentive customer care and 24-hour emergency service — specialized in customized, tailor-made tours, excursions and trips in Sicily. "Luxury travel" but much more, because most choices can be scaled to most budgets. When you deal with Sicily Concierge, there's no reseller or "middle man" because you're in direct contact with the Sicily-based travel specialists who plan and oversee your visit down to the tiniest detail. You're never "alone." The result is personalized service for your unique experience. In other words, you're working step-by-step with the travel specialist responsible for your visit. You'll pay a fair price because there's no extra commission being paid to a "local" vendor outside Italy. (Read more about us.) Here's what you can expect from Sicily Concierge:
• Personal Tours around Sicily with a focus on culture, history, food and wine, or almost any experience you can imagine, whether you would like to stay for two days or two weeks. Escorted/guided with your own driver or self-drive (independent or "FIT") travel based on a well-planned itinerary: your choice.
• Escorted Excursions from Sicily's major cities to visit interesting sights and sites. Shore excursions (if you have a Sicilian port of call for just one day) or day trips from any locality in Sicily where you're staying during your visit.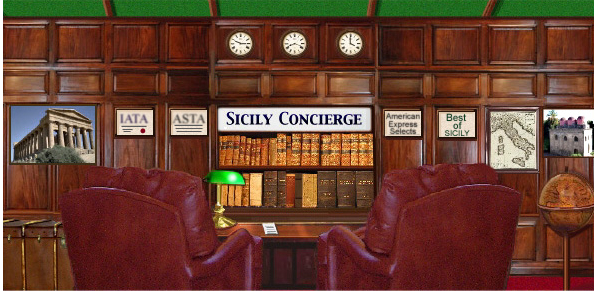 • Travel Experiences unavailable from most "internet" travel consultants — things like golf vacations, hiking, sailing, and wine tours, regardless of the size of your group, whether it's two or two hundred. We also plan meetings, conferences, incentive holidays and team-building activities. Sicily boasts some spectacular settings awaiting your visit.
• Special Features like travel assistance are included with most of our services. This includes a 24-hour emergency phone number for use during your stay on our island.
• Rational Recommendations — because we are not a broker who must rely on travel-agent commissions from specific hotels, wineries or other suppliers. This means we can provide you with superior, objective, reliable travel advice, without the annoying limitations of many travel agents outside Italy. Our recommendations are based on your requirements and our experience, not on "hidden" agreements with a few suppliers. We work with many partner firms here in Sicily, not just five or six. Expect a virtuoso performance every time.
• Tour Guides — in fact, we're one of the few agencies to provide specialized, professional tour guides around Sicily.
© 2006 - 2017 Chat & Tour, Palermo, Italy.
Some photos © Best of Sicily Travel Guide. Used by permission.

Print this page