Sicilian Cooking Classes
There's nothing like learning Sicilian cookery here in Sicily. We organise enjoyable cooking classes - each for small groups - in Taormina.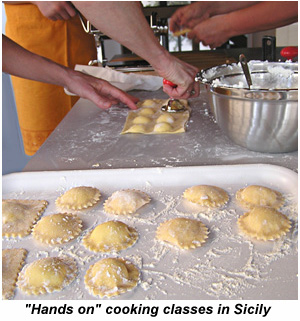 These are "market" cooking classes held at a restaurant in Taormina, eastern Sicily's enchanting Ionian resort. Our chef is passionate about cooking and loves sharing culinary traditions from the regions of eastern Sicily. First you'll shop at the open-air market for the ingredients of the dishes you'll prepare. Then you'll return to his restaurant to start cooking. At the end of the cooking class, we will enjoy our creations plus a wine and dessert. Rate is 90 euros per participant for a minimum of two participants. (Price for larger groups is quoted on request.)
Preparing and tasting this piece of Sicily is an experience you'll never forget. The class runs from 9 AM to 1 PM (lunch time). €90.00 per person. Please note that this class is available from 15 March to 15 November.
About Sicilian Cuisine
There are dozens of articles on Sicilian food and wine linked from Best of Sicily's Sicilian food page.
© 2006-2012 Chat & Tour, Palermo, Italy.
Photos © 2005 Best of Sicily Travel Guide. Used by permission.

Print this page